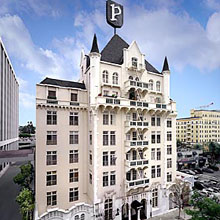 Click here to see clip of Sire's pitch for Reality Sitcom "Sincerely, Sire."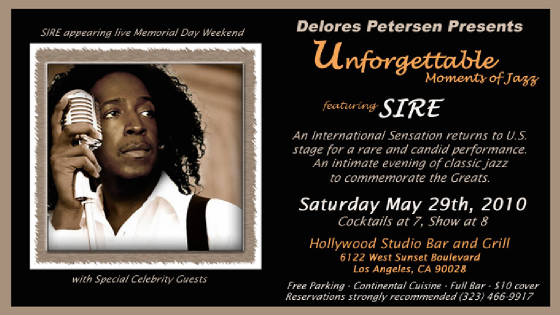 More info at BarryWhiteShow.Com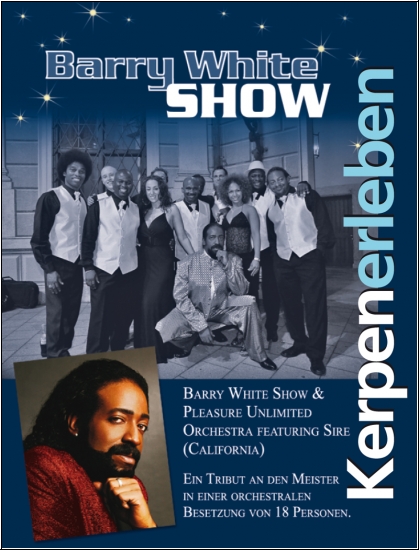 Euro-Videos, Bio, Bookings - Concerts -click here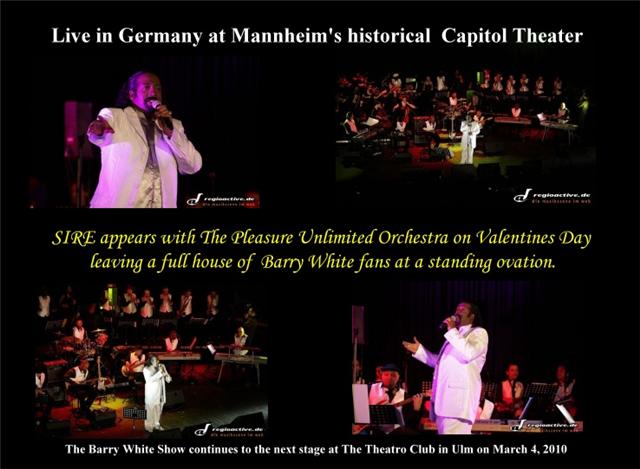 SIRE returns to Europe by popular demand for Barry White Tribute in Manhiem Germany with 32 piece Orchestra on Lover's Holiday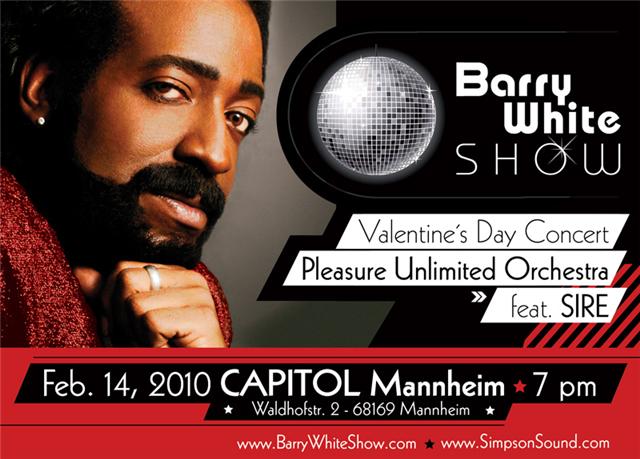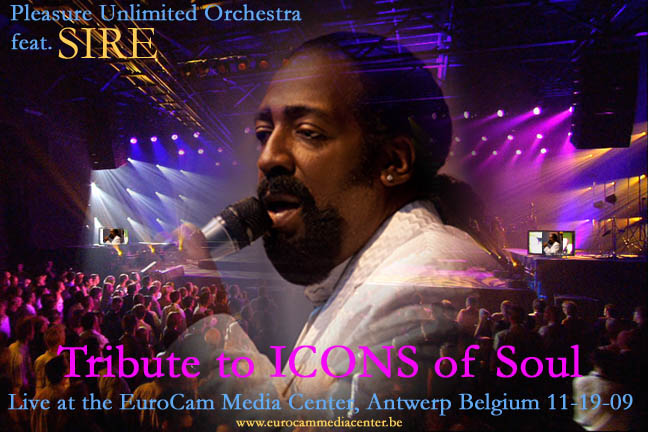 SIRE is proud to announce the Barry White Show's nomination for "Musician of the Year" in Germany's ARTIST ALLSTARS AWARDS 2010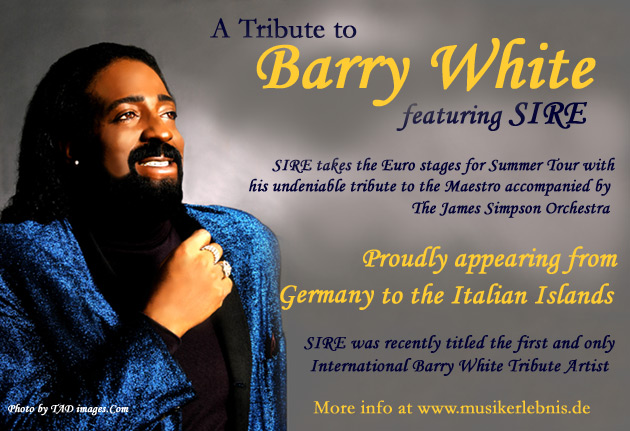 Click here for sneak peek of SIRE as Barry White live in ITALY video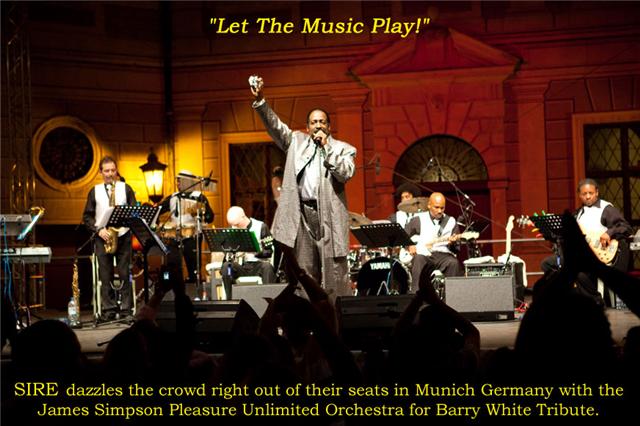 As SIRE prepares for Belgium's Tribute to Icons, he returns to US sharing a video clip of his first performance in Europe. Proudly performing for a prestigious audience at Brunnenhof der Residenz, that was once a castle built in 1385 and resided by royalty from Duke Stephan to King Ludwig I, II and III. Enjoy and thanks for your support.
Click here to see SIRE live in Munich Germany video
Sire will be performing live with the cast of The Tim and Eric Awesome Show at the 40th Annual ComicCon Convention on July 24th - 26th, 2009.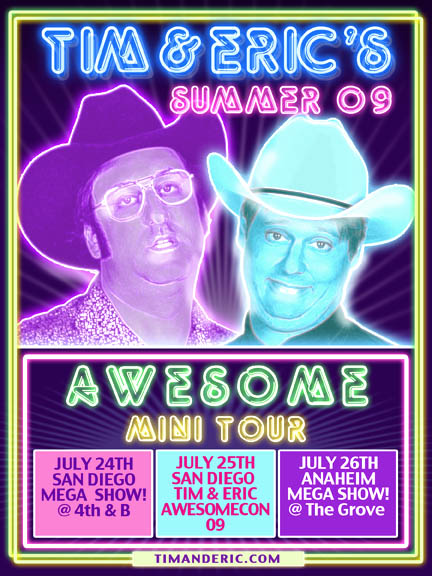 Fans can meet SIRE in person and purchase autographed Cd's at the Awesomecon Picnic Celebration '09 Saturday JULY 25th!!!!!!!!!!!!

Embarcadero Marina Park North (behind the Marriott), San Diego, CA 12-3 pm. FREE to public, ALL AGES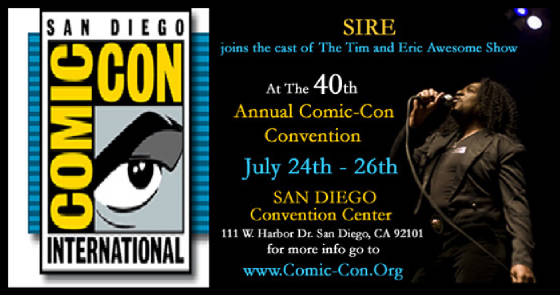 Due to popular demand from the viewers of Cartoon Network's Adult Swim, SIRE joined the stars of "The Tim & Eric Awesome Show" on their Nation Wide Cross Country Tour in 2009. Appearing live at the hottest venues throughout the US.
SIRE will be appearing as guest star on the 4th Season of "The Tim and Eric Awesome Show, Great Job!" on the Cartoon Network (Adult Swim) starting Feb. 8th 2009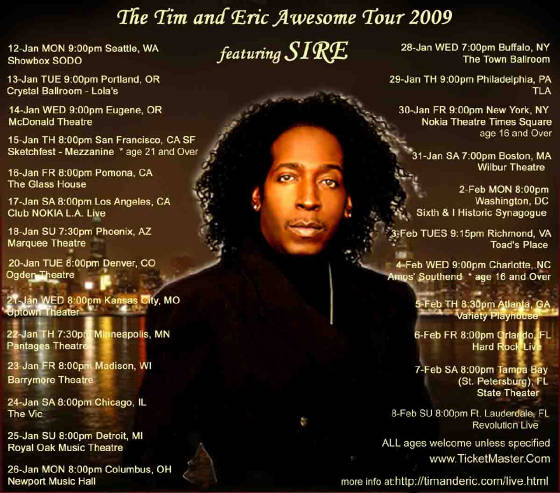 SIRE will also appear at the Annual Comic-Con Convention in San Diego California on July 24-26 with the cast of Tim & Eric Awesome Show.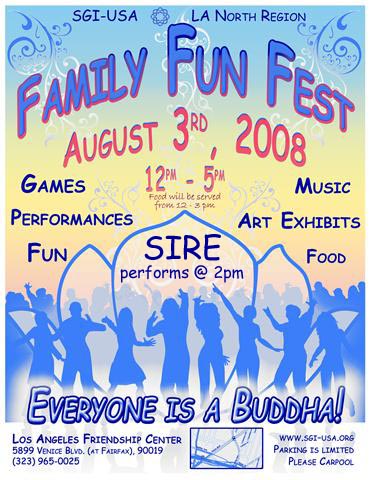 SIRE will appearing Live at the SGI "Family Fun Fest" on August 3rd 2008
at the LA Friendship Center. See flyer for details.
He will also be starring on the Cartoon Network's adult swim as a recurring guest star on "The Tim and Eric's Awesome Show" on Sunday nights 12:30 pst. Starting August 3rd 2008.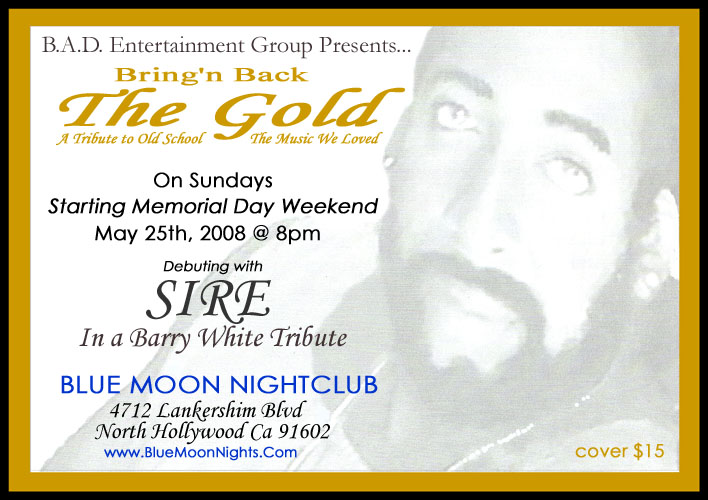 Thanks for making our Valentine Tribute a SOLD OUT success!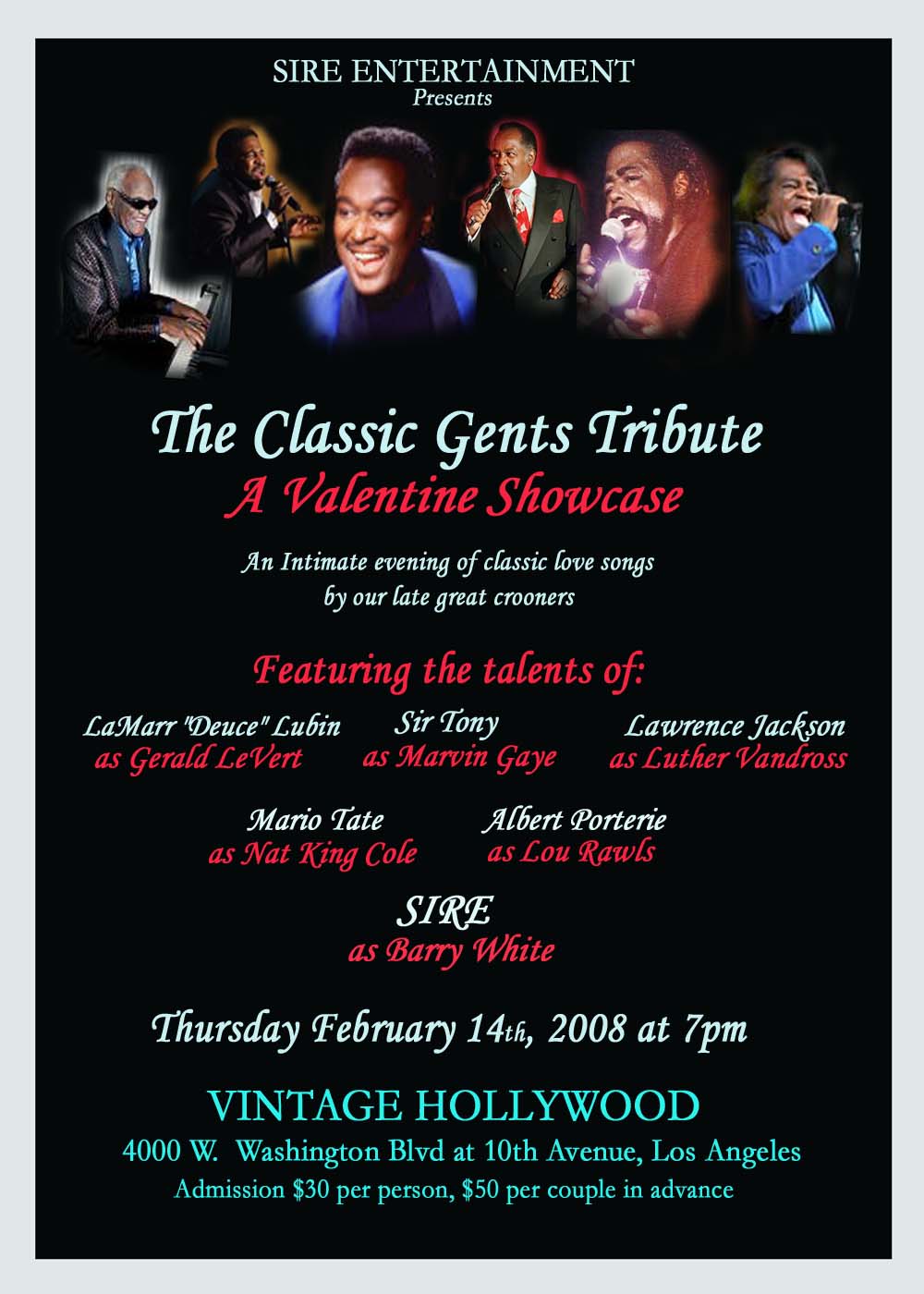 Life Choir lights up the Grove with ol' Saint Nick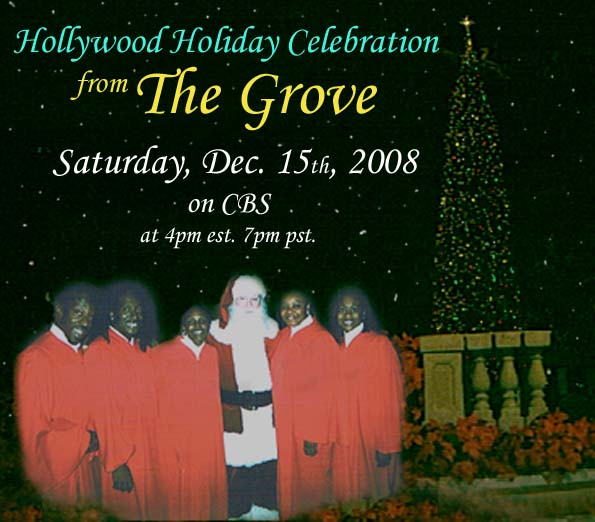 Tune in to CBS at 7pm to watch the 'Hollywood Holiday Celebration from The Grove'! Watch as Patrick Warburton is accompanied by The Life Choir. Also starring, The Cheetah Girls, Emmy Rossum, Sean Kingston, Teddy Geiger, Santa Claus and other guests help light the 110 ft. Grove Christmas Tree! Thanks for watching and Happy Holidays!


SIRE returns from CD promotional tour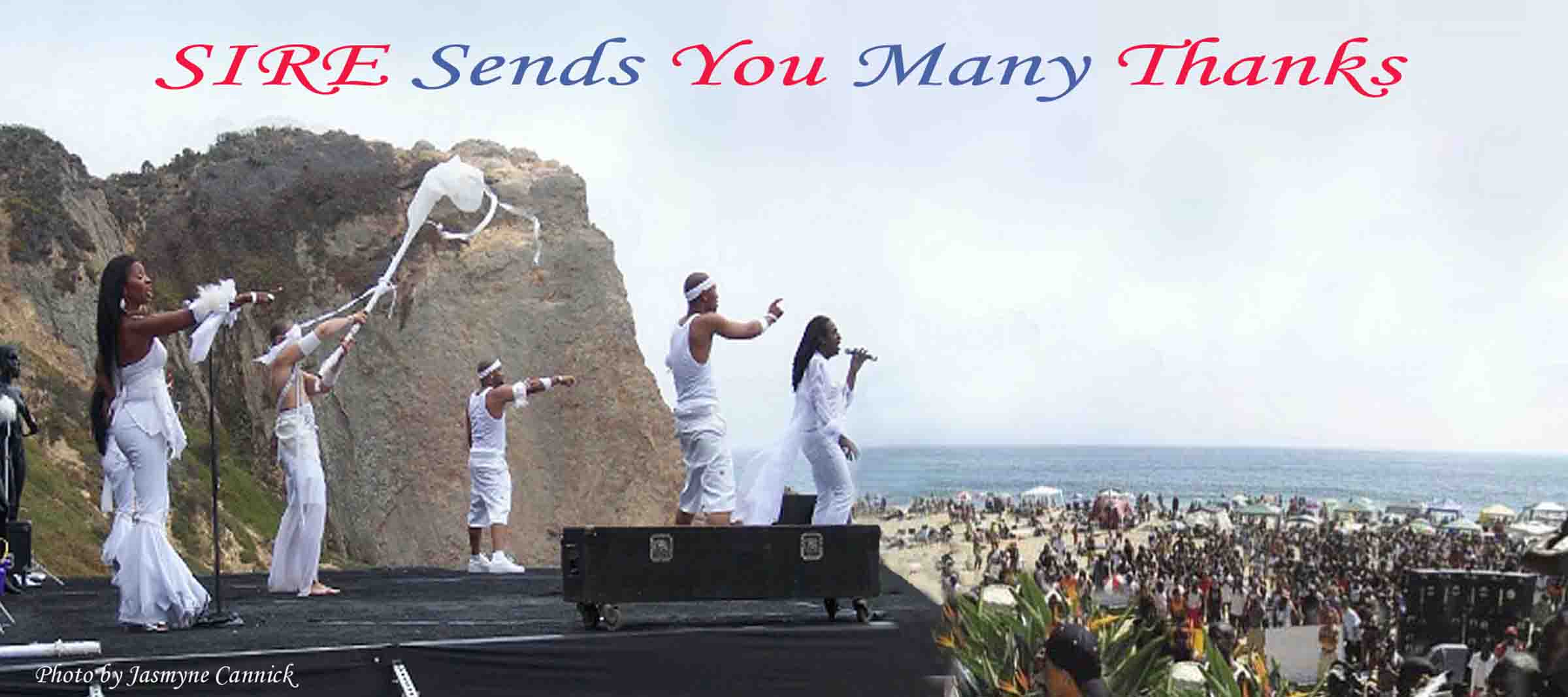 Sire & Company perfoms for hundreds at Malibu Beach Party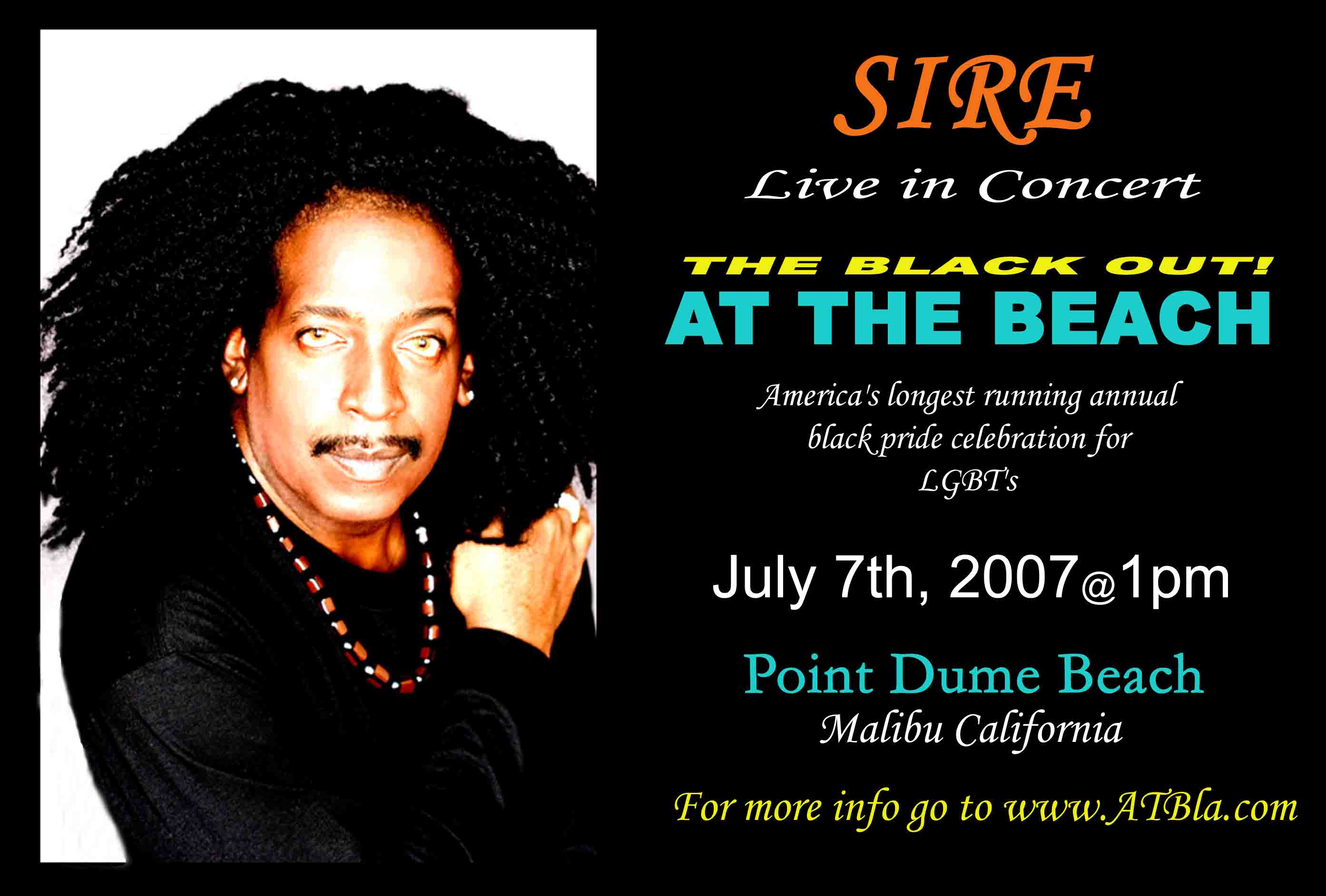 Sire & Company returns to ATB stage performing songs from his latest CD including titled track, "It Must Be You." For detailed info visit

www.atbla.com
Sire will be appearing as "The Voice of GOD" in a new musical stage reading titled "The Good People of Sodom and Gomorrah" at the Academy for New Musical Theatre in North Hollywood on May 19th, 2007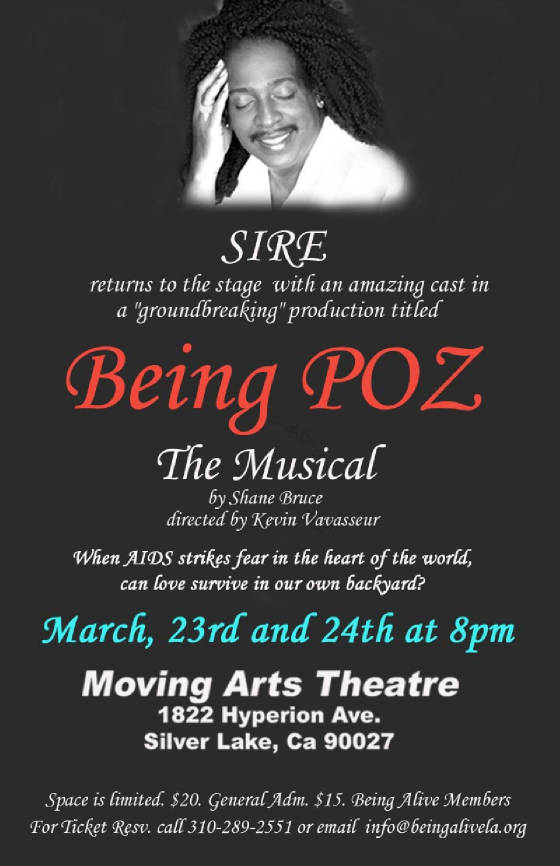 After playing to an over packed house last month, Being POZ: The Musical rises again. Catch Sire making another commanding performance, where he plays a variety of characters as the Narrator of this theatric musical production.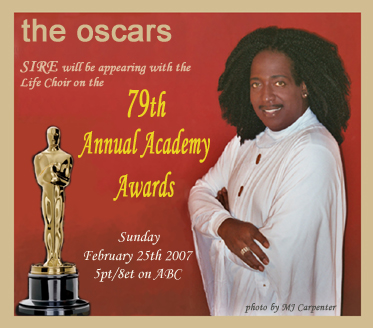 You may catch a glimpse of Sire in the opening number of the Oscars where the Life Choir performs with Ellen Degeneres and later with the DreamGirls.
You can also see a re-cap of performance on The Ellen Degeneres Show on Monday February, 26th 2007. Please check your local listing for time and station.
"Remembering The Stars" tour begins in Las Vegas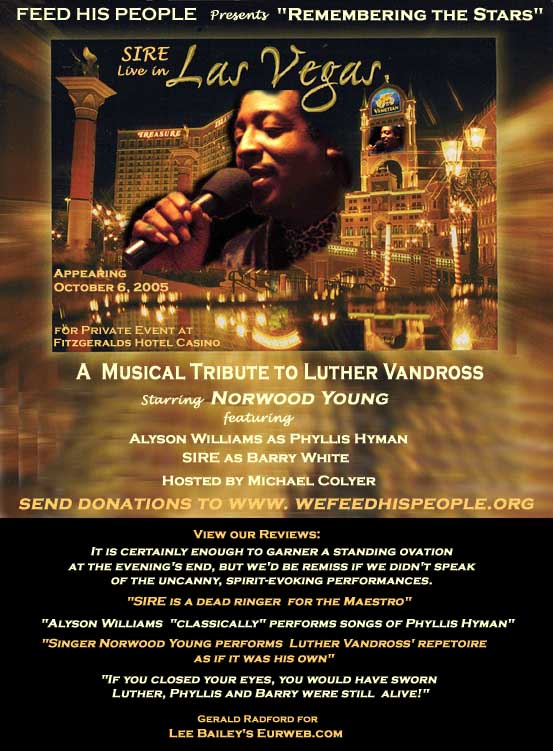 Stay Tuned, We may be coming to your town.
Photography by Collette DeVine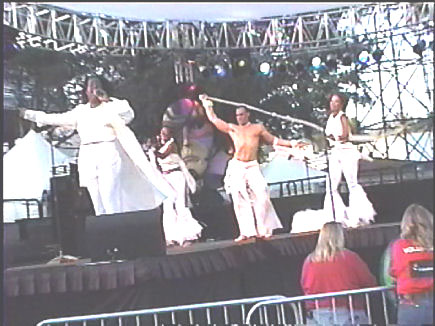 Sire performing original dance hit "Hip-Notized" at LA Pride Festival
Sire returns to LA after cross country promotional tour to perform for LINK Aids Fundraiser, which will be held at Encounters Nightclub in Pasadena California.

August 20th, 2005 @ 9pm.

For tickets, donations
or info on event click on link below
or go to www.enountersnightclub.com


Sire & Company Photo by Collette DeVine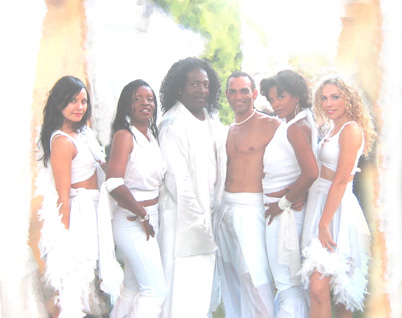 Rebecca Ocampo, Roslyn Jefferson, SIRE, Damien Dillard, JKaren Thomas, and Ashley Marriott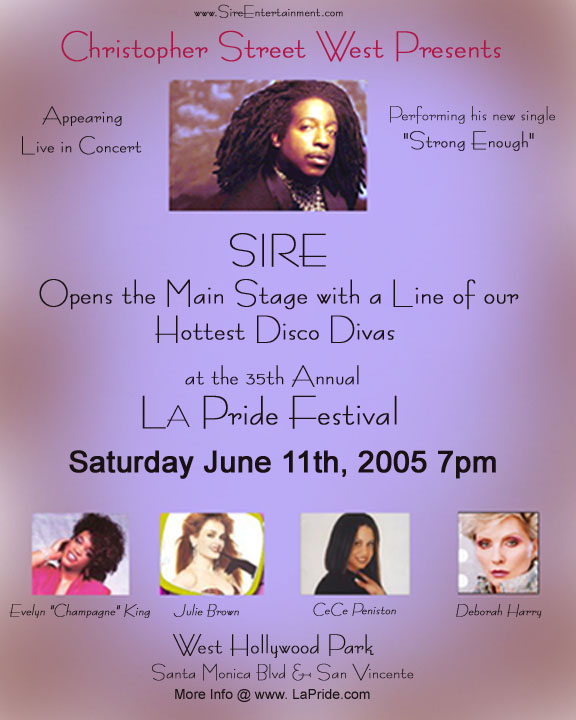 Photography by Collette DeVine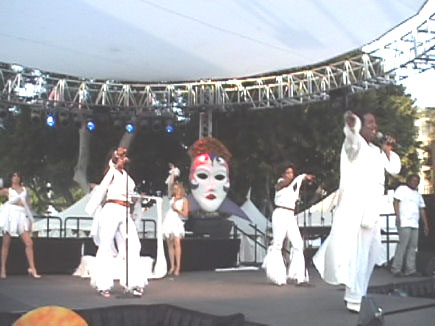 Sire and Company takes LA Pride's main stage by storm with full production
Photography by Duane Abner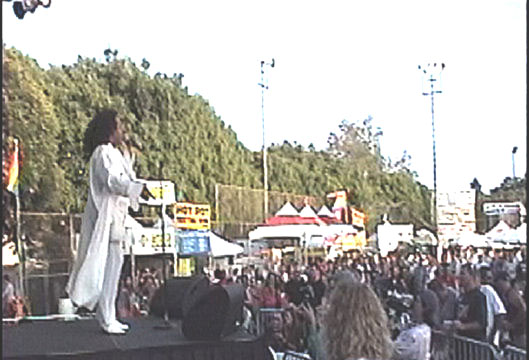 Sire leaves LA Pride audience cheering for more!
Photo by M. Carpenter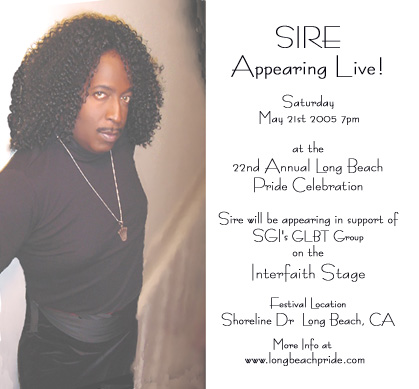 Sire will also open for "Blondie's" Deborah Harry June 11th at LA Pride Festival 2005
Art-photo by M. Carpenter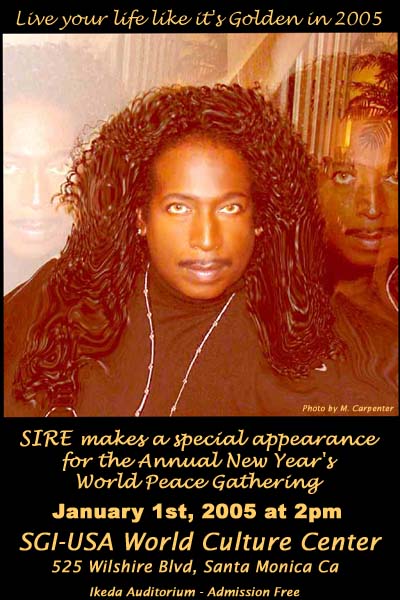 Sire performs his powerful rendition of Jill Scott's "Golden" to kick off 2005
Photo by Michael Carpenter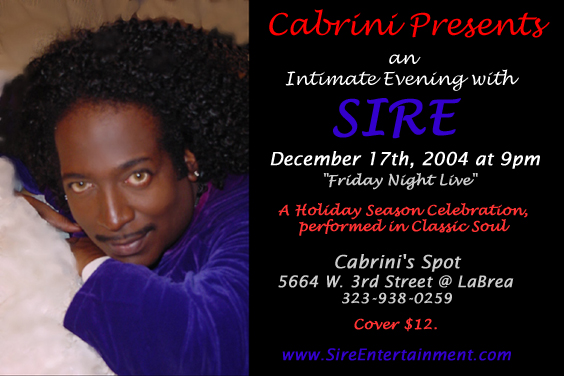 For your pre-Holiday Celebration, come down to the hippest spot in the Miracle Mile of Los Angeles, Cabrini's Koffee Bar by day and "Happening Schmoozer by night." For an intimate evening in artsy surroundings, occasional celebs dropping in and new live music every friday night. December 17th will be a special night to attend because we have a fabulous local recording artist, SIRE on the bill. He's just completed a successful run with his Barry White Tribute Show and a powerhouse CD. SIRE will be providing an excellent evening of entertainment with his deep soulful sounds. Even with his scaled down ensemble, you'll still be fully satisfied when you indulge the experience. Doors open at 9pm and show time at 9:30pm Limited reserved seating, Cover $12.
more info @
www.cabrinipresents.com
Photo by Loren Zerimar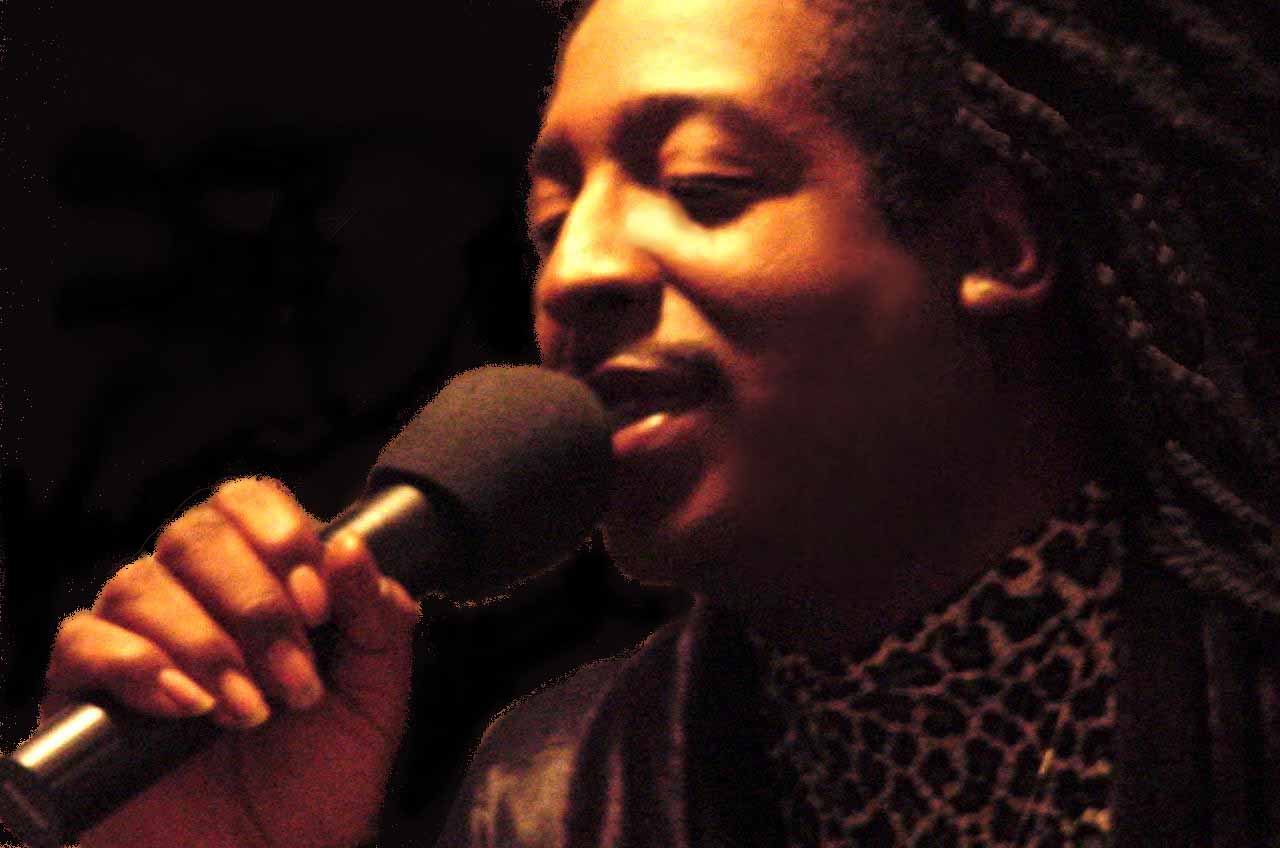 The Long Awaited Event Has Arrived!
Sire will be appearing live in concert on February 14th, 2004 at one of LA's top of the line night clubs, "Platinum Live" in Studio City California.
Sire headlines the evening when hearts come together, with songs from his new CD and compositions of the Late Great Maestro of Love ,
Barry White
"Hosted by
DRED
- Internationally known Educator and Performance-Artist - seen on HBO, Oxygen and MTV, and soon in the upcoming Steven Spielberg film "Terminal" -
www.dredking.net
"
Doors open at 6pm presenting a special Valentine menu.
Sire hits the stage at 7 and jams til 9 featuring his new band
"Unlimited Love"
followed by a list of special performers and celebrity guest.
It is also a birthday celebration for
SIRE
What better night than Valentines Day to spend a romantic evening filled with live entertainment, fine dining and dancing in upscale ambience.
Purchase tickets in advance for 20% off.
$25. per person - $40. per couple
at the door.
There is limited seating and tickets are going fast.
Platinum Live
11345 Ventura Blvd. Studio City, CA
for special groups and reservations call 818-753-1771
"It's gonna be all the way live at Platinum Live!"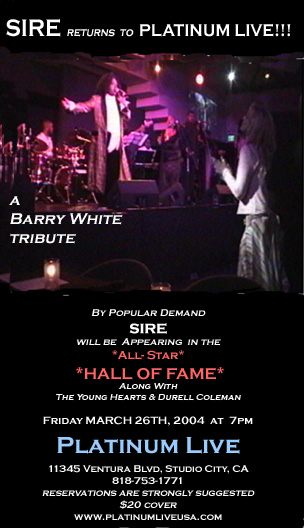 Sire performs in Las Vegas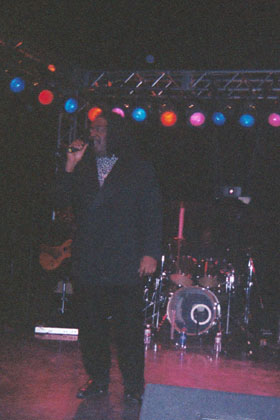 Tribute to Barry White Live at the Stratosphere
"Next Movement"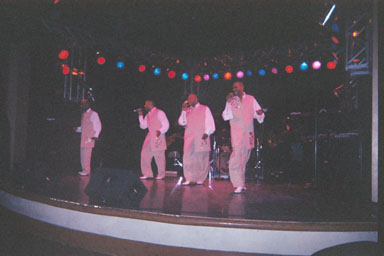 The Next Movement also shared the stage with an excellent night of entertainment.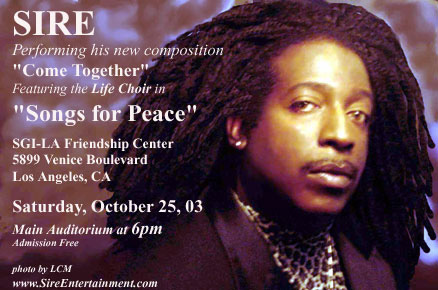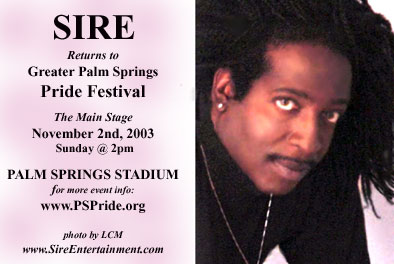 Sire breaks the ice on Barry White Tribute at the Lanterns Foundation Fund Raiser, a pool side event at John Goodmans home in Southern California, September 20th, 2003 to aid better education for Urban children.
Sire was recently a guest performer at the SGI's Chicago Culture Center for "The Dawn of Hope" world peace gathering. He made a true connection with the Chicago members after his Heart-felt, House-rock'n rendition of
"I Will Survive."
SGI Chicago Culture Center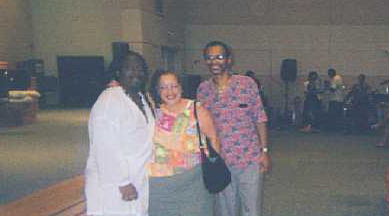 Region Leader Charles Kelly and members give Sire a warm welcome and thanks for his performance
"The Dawn of Hope"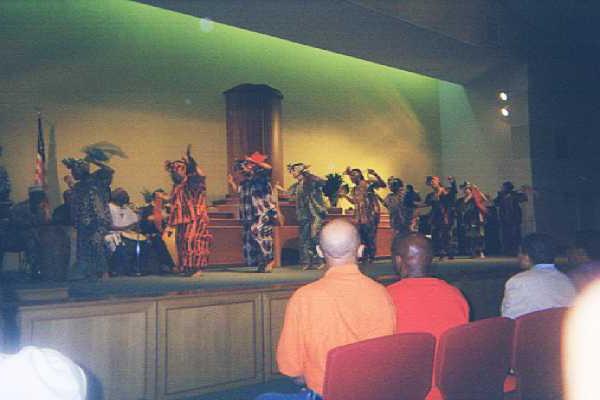 Chicago members dance&sing in perfect rhythm, to drums of Peace&Hope for our future
Class Reunion of 1988 Hawaiian Style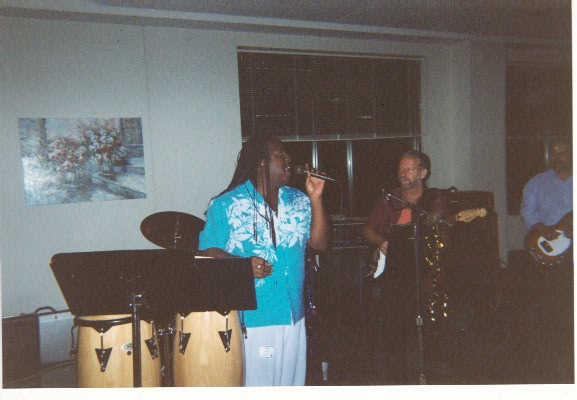 Sire performs oldies with the "Boogie Men Band" for reunited classmates
Catch Sire promoting Club 70's on the new reality show titled "Clubbin' " which airs on Friday nights at 12:30am on channel KTLA 5.
Sire's Variety Show returns to your local cable stations. Featuring his hit comedy acts, "The Black Seed," "Masochizm Tango,"and "The Color People." Also new music performances, and guest artist. Stay posted when it hits so you can join us for the "Screening Party."
Sire comes back by popular demand to the annual Greater Palm Springs Pride Festival November 1st & 2nd 2003.
Get a sneek preview below.....